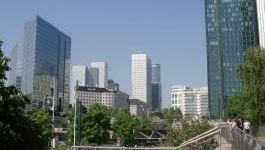 Anglo American: accounts and balance sheet both improve
(CercleFinance.com) - Anglo American, the South African generalist mining group, saw its profits soar in 2017, with the group using cash generated to almost halve its debt.


Last year, sales reached 26.2 billion dollars, up 22.7% year-on-year. Driven by contributions from coal, iron ore, manganese and copper, adjusted EBITDA leapt 45% to 8.8 billion dollars. Group management has mentioned the positive impact of prices, especially in terms of bulk and copper, and the improvement in productivity. Savings also improved adjusted EBITDA by 1.1 billion dollars, i.e. above the group's target.

Net income, group share doubled (+99%) to 3.2 billion dollars. It will propose a dividend of 0.54 dollar per share for 2017, meaning an aggregate full-year dividend of 1.02 dollar.

Cash generation reduced the group's net debt by 47% to 4.5 billion dollars. CEO Mark Cutifani aims to increase EBITDA by an additional 3 billion to 4 billion dollars by 2022.



Copyright (c) 2018 CercleFinance.com. All rights reserved.