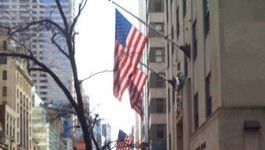 G4S: shares down 4% after results are 'a touch light'
(CercleFinance.com) - British security firm G4S posted a 6% rise in 2017 core earnings on Thursday, and said that it is optimistic about the next three years.


The group's core earnings amounted to 277 million pounds last year, from 262 million pounds in 2016, on the back of an adjusted EBITA that rose 4% to 496 million pounds, 2% below the consensus.

"Full-year 2017 results were a touch light," an analyst commented after the report.

The shares are currently down 4.2% at 253 pence after this report, while the London FTSE 100 index is down just 0.1% in comparison.

Even so, G4S said that it has a positive outlook, based on strong market positions, commercial discipline, and growing technology-enabled revenues.

G4S said it is well positioned to deliver strong performance over the next three years.

Copyright (c) 2018 CercleFinance.com. All rights reserved.