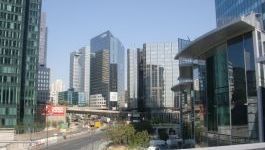 Barclays: shares up 5 percent in London after results
(CercleFinance.com) - Barclays posted a loss for fiscal year 2017 on Thursday, after taking into account charges from litigation, the sale of Barclays Africa and the US tax reform.


The British bank said its attributable loss reached 1.9 billion pounds last year, compared to a profit of 1.6 billion pounds in 2016.

The result included a loss of 2.5 billion pounds due to the divestment of Barclays Africa and a one-off net tax charge of 901 million pounds after the re-measurement of US deferred tax assets.

However, group pre-tax profit increased by 10% year-on-year, to 3.5 billion pounds, as operating expenses were cut by 5%.

In particular, Barclays insisted on the good health of its Barclays UK unit, where pre-tax profit increased to 1.7 billion pounds in 2017.

"Although we are only seven weeks into the first quarter, and it is too early to offer formal guidance, we are pleased with the start to the year," said CEO James Staley.

After paying a dividend of 3 pence per share for 2017, Barclays intends to resume a cash dividend of 6.5 pence from 2018, which prompted the shares to jump 5.8% in early trading in London this morning.

Copyright (c) 2018 CercleFinance.com. All rights reserved.