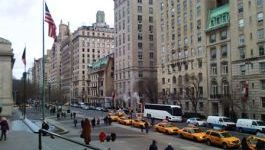 Barclays: SFO brings charges in 2008 cases
(CercleFinance.com) - Britain's Serious Fraud Office has brought certain charges against Barclays in relation to matters that arose in the context of capital raisings in 2008, the bank said on Monday.


The SFO's charges included one offence of unlawful financial assistance regarding a 3 billion dollar loan provided to the State of Qatar in November 2008, Barclays said.

Barclays said it intends to defend the respective charges, while not expecting it to affect its ability to serve customers and clients.

Even so, the shares were still up 0.3% at 193.5 pence in London today.


Copyright (c) 2018 CercleFinance.com. All rights reserved.