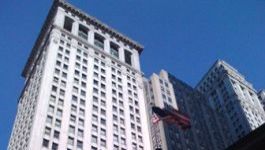 Barclays: to take one-off charge because of US tax reform
(CercleFinance.com) - Barclays said on Wednesday it will take a one-off charge of about one billion pounds (around 1.
3 billion dollars) in its full-year 2017 profit after tax, as the British bank tries to assess the impact of the US tax reform.

In practice, Barclays expects the measurement of its US deferred tax assets to reduce by one billion pounds as a result of the reduced tax rate.

While the reduction in the statutory US federal rate is expected to positively impact Barclays' earnings, the bank cites the uncertain practical and technical application of many provisions, making it difficult to estimate how the reform will eventually impact its results.

Copyright (c) 2017 CercleFinance.com. All rights reserved.