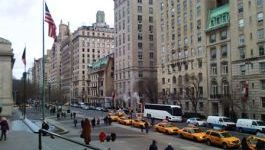 Marks & Spencer: sells Hong Kong and Macau stores
(CercleFinance.com) - On Tuesday Marks & Spencer confirmed the sale of its retail business in Hong Kong and Macau to franchise partner Al-Futtaim.


The sale, which was completed on 30 December, sees Al-Futtaim become the new sole franchisee for M&S in Hong Kong and Macau.

Following the purchase of 27 Marks & Spencer stores in Hong Kong and Macau, the United Arab Emirates-based diversified group will now operate 72 Marks & Spencer stores across 11 markets in Asia and the Middle East.

Al-Futtaim has worked in partnership with M&S since 1998, when it opened Dubai's first M&S store.

Marks & Spencer said the sale followed the strategic review of its international business that started in November 2016.

Copyright (c) 2018 CercleFinance.com. All rights reserved.