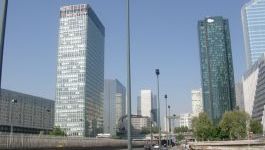 BT Group: shares weaker after broker cuts target.
(CercleFinance.com) - Shares in BT Group are down on Friday after an analyst cut his target price on the stock, fearing that the British telecoms giant "may stumble again.
"

"Valuation is more reasonable but we see little respite in newsflow as an escalating fibre landgrab may accelerate BT's own plans, defer returns and pressure the dividend," Deutsche Bank wrote in a research report.

"Further, Vodafone and Talk aim to grow in fixed, Virgin Media (and others) in mobile and Ofcom is likely further encourage infrastructure competition," the broker wrote.

Deutsche Bank - which maintains a "sell" rating on tthe shares - has hence cut its target price from 265 pence to 238 pence.

BT shares are currently down 0.7% at 247.25 pence.

The share has now lost over 32% of its value so far this year, due to competitive, regulatory and even fibre investment issues.



Copyright (c) 2017 CercleFinance.com. All rights reserved.