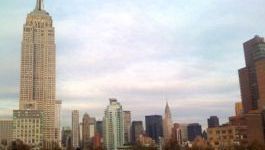 AstraZeneca: FDA approves lung cancer drug Imfinzi
(CercleFinance.com) - The US Food and Drug Administration has approved AstraZeneca's Imfinzi to treat patients with unresectable stage III non-small cell lung cancer, the company said on Monday.


Imfinzi, which was developed by the group's biologics research and development arm MedImmune, is now the only immunotherapy approved for patients with the disease, AstraZeneca said.

The FDA's decision was based on data from a phase III trial that showed an 11.2-month improvement in median progression-free survival, representing a 48% reduction in relative risk of progression or death compared to placebo.

AstraZeneca shares were up 0.6% at 4,767.5 pence in early trading today.

Copyright (c) 2018 CercleFinance.com. All rights reserved.