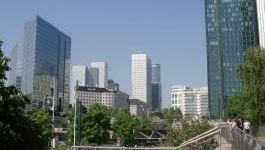 AstraZeneca: good set of numbers, shares advance.
(CercleFinance.com) - AstraZeneca's product sales fell by 9% over the first nine months of 2017, impacted by losses of exclusivity on its anti-cholesterol drug Crestor and antipsychotic drug Seroquel XR.


Year-to-date sales decreased from 16.05 billion dollars to 14.66 billion dollars, the drugmaker said on Thursday.

Third-quarter sales fell 3% to 4.88 billion dollars, generating "core" earnings, which exclude certain items, that were down 15% at 1.12 dollar a share, AstraZeneca said.

AstraZeneca updated its guidance, saying that it now anticipates a 2017 "core" EPS performance towards "the favourable end of the guidance range of a low to mid teens percentage decline."

After this "good set of quarterly numbers" according to analysts at Bryan Garnier, AstraZenica shares were up 1.6% at 5,074 pence in a fairly flat market for European pharmaceuticals stocks.

Copyright (c) 2017 CercleFinance.com. All rights reserved.