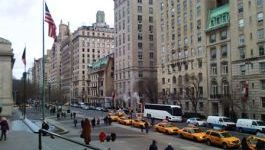 GlaxoSmithKline: seeks label expansion for COPD drug
(CercleFinance.com) - GlaxoSmithKline and US partner Innoviva have submitted data to the European Medicines Agency to support an expanded label for Trelegy Ellipta for the maintenance treatment of moderate-to-severe chronic obstructive pulmonary disease (COPD).


The data clarifies the type of patient who is most likely to benefit from the once-daily single inhaler, GSK said.

The pharmaceutical giant believes that Trelegy Ellipta has the potential to be an effective treatment option for appropriate patients with COPD.

The drug was approved in Europe in November 2017 as a maintenance treatment in adult patients with moderate to severe COPD who are not adequately treated by corticosteroids and beta2-agonists.

Copyright (c) 2018 CercleFinance.com. All rights reserved.