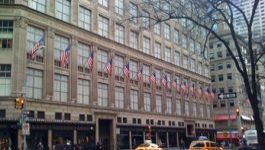 GlaxoSmithKline: seeks US expanded use for Trelegy Ellipta.
(CercleFinance.com) - GlaxoSmithKline and US-based partner Innoviva have filed a supplemental new drug application with the FDA for the use of Trelegy Ellipta for an expanded indication.


The two companies are looking for the single inhaler triple therapy to be used for the maintenance treatment of airflow obstruction and reduction of exacerbations in patients with chronic obstructive pulmonary disease.

A FDA approval would mean mean that the combination could be used by doctors to treat a wider population of patients with COPD who are at risk of an exacerbation and require triple therapy, GSK said.

Copyright (c) 2017 CercleFinance.com. All rights reserved.