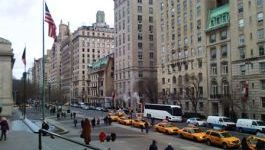 HSBC: profit jumps on strong savings
(CercleFinance.com) - HSBC's profit jumped in 2017, with the group making huge savings that were also accompanied by increased transaction volumes.


The UK-based banking giant reported FY 2017 pre-tax profit of 17.2 billion dollars, up from 7.1 billion dollars in 2016.

HSBC's underlying revenue rose to 51.4 billion dollars, from 48 billion dollars in 2016.

Reported operating expenses fell by 12% over the year: since 2015, HSBC has achieved annualised run-rate savings of 6.1 billion dollars.

John Flint, HSBC's new chief executive replacing Stuart Gulliver, will therefore inherit a group that is in great shape: "These results and the achievements of the last couple of years give us a great platform to build on," he commented.

However, today, the HSBC share is currently down 4.4% at 727 pence, underperforming a slightly lower STOXX Europe 600 Optimised Banks index. Even so, the stock has still risen by 2% over the past year.

Copyright (c) 2018 CercleFinance.com. All rights reserved.