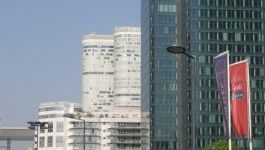 Balfour Beatty: sells additional tranche of M25 motorway
(CercleFinance.com) - This morning, Balfour Beatty announced the transfer of an additional part of the capital of the company that manages the M25 motorway, which encircles London and is known under the moniker 'London Orbital'.


The price paid—62 million pounds—should lead to a profit of 32 million pounds sterling. The transaction is set to close in 2018.

The British building and public works company has sold 7.5% of its stake in Connect Plus, the company that operates the M25 London orbital. This comes over and above the sale (at 103 million pounds) of 12.5% announced just before Christmas, on 21 December, under the same pricing. These two transactions should generate a cumulative profit of 85 million pounds for Balfour Beatty.

As a result, the Board's expectations for profit before tax and net cash in 2017 will be exceeded, the Group indicates.

Copyright (c) 2017 CercleFinance.com. All rights reserved.