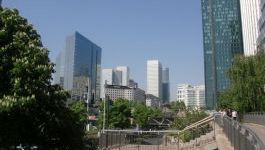 Elior: net income up sharply
(CercleFinance.com) - Commercial catering and foodservice company Elior's revenue from continuing operations reached 4,923 million euros in 2018-19, up slightly (+0.
8%) compared to the previous year.

The adjusted EBITDA from continuing operations amounted to 176 million euros, representing a stable margin at 3.6% of sales. Underlying operating income from continuing operations, including the share of income from associates, amounted to 160 million euros, compared to 127 million euros in 2017-2018.

Net income, group share came in at 271 million euros, well above the 34 million euros reported in 2017-2018. Meanwhile, operating free cash flow amounted to 251 million euros, 162 million euros higher than in 2017-2018.

The Group anticipates organic growth of 2% in 2019-2020 financial year, along with an Ebita margin that is up at least 10 basis points compared to 2018-2019, while capex is expected to be less than 3% of sales.


Copyright (c) 2019 CercleFinance.com. All rights reserved.