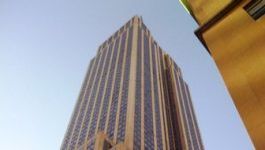 Suez: Q1 EBIT up 2.8%
(CercleFinance.com) - Suez has reported Q1 2018 EBIT that is up 2.
8% at 289 million euros, with EBITDA that is up 3.4% at 635 million euros (+10.2% as reported and +8.8% at constant exchange rates).

The utilities group reported sales of 4,058 million euros, up 9.1% (+13.8% at constant exchange rates), with net financial debt stood of 8.8 billion euros, up from 8.5 billion euros at end-2017, representing 3.3x EBITDA.

"Our efforts to integrate and extract synergies within WT&S are already yielding results and confirm the expected value creation path," underlined group CEO Jean-Louis Chaussade, who confirmed the group's FY targets.


Copyright (c) 2018 CercleFinance.com. All rights reserved.