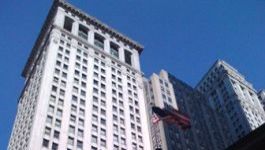 Suez: 9m EBIT flat.
(CercleFinance.com) - Suez has published EBIT 926 million euros for the first nine months of 2017, -0.
6% in gross terms, with organic growth of 1.4%.

EBITDA at end-September came in at 1,924 million euros, down 1.7%, with a 1% fall in organic terms.

At 11.3 billion euros, revenues of the utilities group increased 0.7% in absolute terms and were up 1.3% in organic terms, with organic growth driven by the Recycling & Recovery Europe division, which posted dynamic 2.9% organic revenue growth.

As part of an ambitious transformation plan, and excluding the impact of the acquisition of GE Water, Suez has confirmed its targets for 2017, including slight organic growth in revenues and EBIT and free cash flow of around one billion euros.


Copyright (c) 2017 CercleFinance.com. All rights reserved.