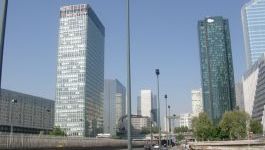 Scor: net income weighed on by natural disasters
(CercleFinance.com) - Scor posted 2017 net profit that was down 52.
6% at 286 million euros, suffering from the burden of natural disasters occurring in the third and fourth quarters.

In normalised terms, the result increased by 20.8% to 664 million euros.
The annualised return on equity (ROE) reaches 4.5%, or 380 basis points above the risk-free rate, while the group's normalised return amounts to 10.1%, above the target of 800 basis points above the five-year risk-free rate.

At its AGM, the reinsurer will propose a dividend of 1.65 euro per share for FY 2017, flat compared to 2016, meaning a distribution rate of 108%. The group is also continuing its share buyback program, which will end in mid-2019.


Copyright (c) 2018 CercleFinance.com. All rights reserved.