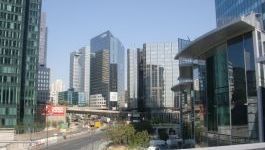 Scor: net loss in Q3 with disasters.
(CercleFinance.com) - Scor reported a net loss of 267 million dollars for Q3 2017, compared with a profit of 163 million dollars a year earlier, due to an exceptional series of natural disasters including hurricanes Harvey, Irma and Maria.


The reinsurer's normalised net income fell 27.7% to 127 million euros, meaning a normalised annualised ROE that is down 2.5 points to 8.2%, while gross written premiums increased by 3.4% to 3.6 billion euros.

Scor's estimated solvency ratio is approximately 213% as of 30 September 2017, found at the upper side of the optimal 185%-220% zone, defined in the "Vision in Action" strategic plan, the targets of which the group has confirmed.


Copyright (c) 2017 CercleFinance.com. All rights reserved.