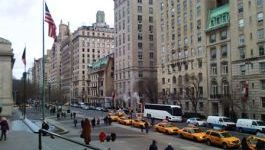 ADP: solid annual results
(CercleFinance.com) - Published after trading on Thursday, ADP group's 2017 results included net income that was up 136 million euros at 571 million euros (+31.
3%).

This increase is thanks to the capital gain made on the sale of 80% of the group's stake in Hub Safe.

Meanwhile, Ebitda grew by 372 million euros from 2016 to about 1.57 billion euros (+31.2%), while underlying operating profit reached 1.03 billion euros, up 366 million euros (+55.1%).

The group targets between 2.5% and 3.5% growth in consolidated Ebitda, excluding the overall integration of TAV Airports, as well as between 10% and 12% growth in traffic (between 2.5% and 3.5% growth for Paris Aéroport).

Copyright (c) 2018 CercleFinance.com. All rights reserved.