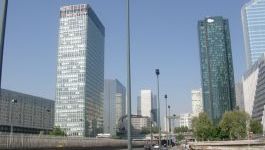 ADP: traffic up 3.6% in October.
(CercleFinance.com) - Traffic at Paris Aéroport rose by 3.
6% y-o-y in October, with the airport operator welcoming a total of 8.8 million passengers, including 6.0 million passengers at Paris-Charles-de-Gaulle (+5.0%) and 2.8 million at Orly (+0.6%).

Overall, international traffic (excluding Europe), rose by 5.8%, while traffic to Europe (excluding France) rose by 3.1%; it was down slightly (-0.2%) in France.

Since the start of 2017, traffic at Paris Aéroport has risen by 4.6%, with a total of 86.2 million passengers.


Copyright (c) 2017 CercleFinance.com. All rights reserved.