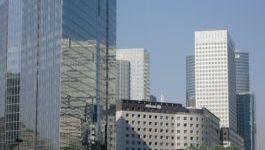 EDF: still a buyer, Jefferies targets 15 euros
(CercleFinance.com) - Jefferies maintains its buy rating on EDF, with the stock bubbling (up around 6% at lunchtime) in Paris today after the group published its FY results.

The broker has a target price of 15 euros for the share.

According to its research report, the majority of items in the group's 2017 accounts match estimates. However, Jefferies underlines that EDF outperformed at the bottom line, thanks to a capital gain made on the sale of shares in CTE, RTE's holding company.

The group's 2017 dividend also exceeded estimates at 0.46 euro per share, "well ahead of consensus and our estimates," its report says.

"More importantly, EDF has re-iterated its 2018 targets, confirming a significant rebound in earnings and nuclear output this year," Jefferies writes.


Copyright (c) 2018 CercleFinance.com. All rights reserved.