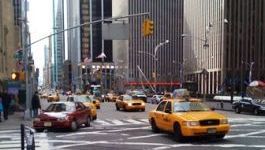 Eutelsat: revises FY sales forecasts.
(CercleFinance.com) - Eutelsat's Q1 sales came in at 349.
1 million euros, down 6.7% like-for-like.

Relative to published numbers, sales were down by 9.3% taking into account a negative scope effect of 6 million euros and a negative FX impact of 5 million euros.

In the first quarter, revenue for Video Applications (65% of total revenue) came in at 223.3 million euros, down 0.8% year-on-year.
As of 30 September 2017, Eutelsat's satellites broadcast a total of 6,755 channels, up 6.6%.

The group's order backlog reached 5.2 billion euros at 30 September 2017, compared with 5.4 billion euros at 30 September 2016 and 5.2 billion euros at 30 June 2017.

Sales for FY 2017-18 is now expected to fall by between 1% and 2% (at constant scope and exchange rates) compared to a forecast of "almost flat" sales previously.


Copyright (c) 2017 CercleFinance.com. All rights reserved.