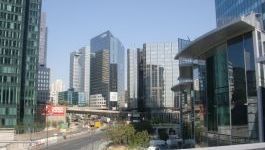 Alstom: unveils plans for electric road.
(CercleFinance.com) - Alongside the French president Emmanuel Macron's visit to Sweden, Alstom has announced that it has unveiled its project for an electric road at Volvo Group's headquarters in Gothenburg.


This innovation will mean more environmentally friendly mobility, and broadens the French group's portfolio of environmental solutions.

In partnership with Volvo Group, Alstom will participate in Electric Road Systems projects, which have been initiated by the Swedish agency of energy, by adapting its electrification solution to current facilities (used by trams), for an application on roads.

For this project, Alstom has delivered the entire electrification system, including segments to transport energy incorporated into the road surface.

Copyright (c) 2017 CercleFinance.com. All rights reserved.