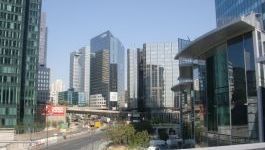 Alstom: H1 income up 66%.
(CercleFinance.com) - Alstom has reported H1 2017-18 net income (group share) that is up 66% at 213 million euros, with adjusted operating income that is up 16% at 231 million euros, meaning an operating margin of 6.
2%, against 5.6% a year ago.

The equipment supplier for the transport sector recorded a turnover of 3.8 billion euros, up 5% - both as reported an in organic terms, having received 3.2 billion euros in orders, i.e. half the level as in H1 2016-17.

Alstom confirms that its turnover should increase by 5% in organic terms p.a. through to 2020 and that its adjusted operating margin should reach around 7% by 2020, driven by volume, its product mix and actions of "operational excellence."

Copyright (c) 2017 CercleFinance.com. All rights reserved.