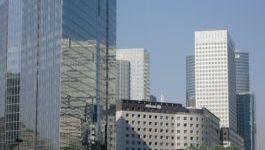 Engie: continues collaboration in nuclear energy with CEA
(CercleFinance.com) - On Friday we learnt that Isabelle Kocher, Engie's CEO, and Daniel Verwaerde, Administrator General of the CEA (the French Alternative Energies and Atomic Energy Commission), have signed up to continue their Research and Development agreement in the nuclear energy field.


As an extension of the cooperation between Engie and the CEA which began in 2007, a new agreement has therefore been signed, binding both partners for another two years in the fields of improving reactor performance and safety; the development of knowledge of the phenomena of changes in materials, equipment and components, including tanks and internal structures; decommissioning, the decommissioning and remediation of nuclear installations and finally the control of radiation protection and nuclear waste and its management.


Copyright (c) 2018 CercleFinance.com. All rights reserved.