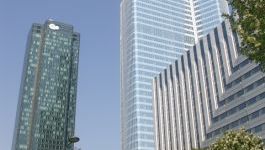 Engie: JP Clamadieu proposed to succeed G Mestrallet
(CercleFinance.com) - Engie has announced that its board of directors, which met on 13 February, decided to submit to the vote of the AGM of 18 May the appointment of Jean-Pierre Clamadieu as director, replacing Gérard Mestrallet.


The board will then appoint him to the post of board chairman, again succeeding Gérard Mestrallet, who will be proposed as honorary president in recognition of the 23 years he has devoted to the group's construction.

The State, which has reduced its stake in the company's capital, announced that it placed at the disposal of the board one of its five directorships. The board meeting on 7 March will decide on the selection of a new independent director, who will be proposed for appointment.


Copyright (c) 2018 CercleFinance.com. All rights reserved.