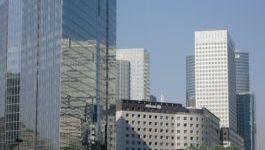 Nexity: delivers office block in Montpellier
(CercleFinance.com) - After trading on Monday Nexity announced the delivery of the "Ywood Odysseum" program in Montpellier (Hérault).


Located between Avenue Pierre Mendès France and Rue Georges Méliès, in the heart of the major tertiary project called "@7Center," which will host several company headquarters, this office block is the first building made from Ywood of the Languedoc-Roussillon Region.

Designed by the Agency A+ Architecture, it was delivered to the investor, Foncière INEA on 11 December 2017. Certified BDM ("Sustainable Mediterranean Building") silver level (design) and BBCA ("low carbon building"), it has a surface area of 3,000 square metres, with a rooftop terrace.


Copyright (c) 2018 CercleFinance.com. All rights reserved.