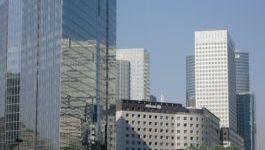 Bourbon: Q3 sales down 12.7% sequentially.
(CercleFinance.com) - Bourbon has published Q3 2017 turnover that is down 12.
7% (-9.2% at constant exchange rates) compared to Q2, with the group still impacted by slower activity and strong pressure on prices, despite some positive signals.

In deep offshore and continental, Bourbon underlined clients' desire to revive a number of exploration campaigns and conclude new medium- and long-term contracts, which have resulted in activity picking up slightly, albeit at prices that are still falling.

The Crew boats segment remains resilient, affected by the seasonality of the West African monsoon. Turnover of the Subsea division is down 23.1% sequentially, mainly affected by a smaller number of turnkey projects.


Copyright (c) 2017 CercleFinance.com. All rights reserved.