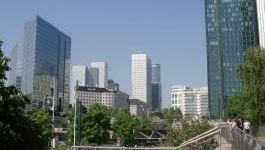 Orange: FY 2017 earnings down
(CercleFinance.com) - Orange has reported 2017 earnings of 2.
143 billion euros, down 1,120 billion euros relative to the previous year, with adjusted EBITDA of 12.819 billion euros, up 2.2% like-for-like.

The telecom operator's revenue came in at 41.096 billion euros in 2017, up 1.2% like-for-like, with this growth twice that in 2016 (+0.6%), with an acceleration of +1.8% in Q4.

Orange has confirmed its targets for 2018, including higher growth in adjusted EBITDA than that achieved in 2017 like-for-like, as well as higher growth in operating cash flow than in 2017, again on a like-for-like basis.


Copyright (c) 2018 CercleFinance.com. All rights reserved.