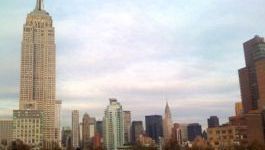 Renault: creation of joint venture in China
(CercleFinance.com) - Renault and Brilliance China Automotive Holdings Limited (CBA) have announced signing an agreement for the creation of a joint venture for the manufacture and sale of commercial vehicles under the Jinbei, Renault and Huasong brands.


The joint venture, dubbed "Renault-Brilliance-Jinbei Automotive Company," will have manufacturing sites in the Dadong District (Shenyang) and will produce vehicles locally in three key segments: minivans, medium-size vans and heavy lorries.

The joint venture will have a sales target of 150,000 vehicles per year by 2022 and an acceleration of the electrification of engines. China's commercial vehicle market is experiencing strong growth, with three million units sold each year.


Copyright (c) 2017 CercleFinance.com. All rights reserved.