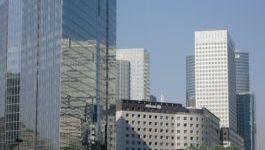 BNP Paribas: completes two logistics deals
(CercleFinance.com) - BNP Paribas REIM, acting on behalf of its Eurozone Logistics Fund (ELF), announces that it completed two new class A logistics transactions in November, representing a total investment volume of around 85 million euros.


The first asset, a new warehouse in the Milan urban logistics market, has a total rental area of around 15,000 m² and is fully leased to an Italian logistics provider (3 PL) for a firm period of six and a half years.

The second, located in Amblainville (French department of Oise), has approximately 85,000 m² of rental space and is fully leased to a player in the furniture and home improvement sector, for a guaranteed period of six years.


Copyright (c) 2019 CercleFinance.com. All rights reserved.