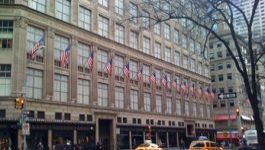 BNP Paribas: maintains Basel 3 target ratio.
(CercleFinance.com) - French bank BNP Paribas has announced the publication of the 2017 list of systemic banks (G-SIB) on the basis of data at the end of 2016 by Financial Stability Board (FSB), in consultation with the Basel Committee of Banking Supervision (BCBS) and national authorities.


BNP Paribas' "G-SIB buffer" requirement is reduced by 50 basis points to 1.5% as of 1 January 2019, increasing the Group's leeway relative to regulatory thresholds by the same amount.

The Group maintains its target of a "Common Equity Tier 1 Basel 3" ratio of 12% in 2020.

The Group's "Common Equity Tier 1 Basel 3" ratio was 11.8% as of 30 September 2017.


Copyright (c) 2017 CercleFinance.com. All rights reserved.