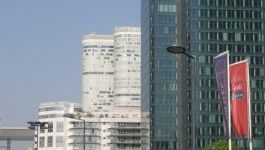 Société Générale: Q3 earnings down.
(CercleFinance.com) - Société Générale has published Q3 2017 Book Group net income of 932 million euros, against 1,099 million euros a year ago, with accounting net banking income (NBI) that declined slightly (-0.
9%) to 5,958 million euros.

NBI of core businesses fell 5.9% to 5.9 billion euros, while revenues fell in Global Banking & Investor Solutions, in a historically low volatility environment (-14.7% vs. Q3 16), and in French Retail Banking (-6.6% vs. Q3 16) against a backdrop of low interest rates.

The Common Equity Tier 1 ratio (unphased CET1) came in at 11.7% at 30 September 2017 (11.7% at 30 June) and earnings per share, excluding extraordinary items, reached 3.12 euros at end-September 2017 (vs. 4.19 euros at end-September 2016).


Copyright (c) 2017 CercleFinance.com. All rights reserved.