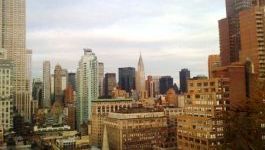 Publicis: Q3 organic growth reaches 1.2%.
(CercleFinance.com) - The Publicis share is down almost 4% early trading today, after publishing Q3 revenues of 2,264 million euros, down 2.
2% as reported, but up 1.2% in organic terms.

This organic revenue growth reached 3% in North America, driven by budget gains over the last 12 months, while Europe is down 1.5%, with a high comparison basis (+7.6% a year ago).

With a momentum seen as buoyant in the Q3 in terms of new business, the media group expects to report an improvement in organic growth in H2 compared to that recorded in H1.


Copyright (c) 2017 CercleFinance.com. All rights reserved.