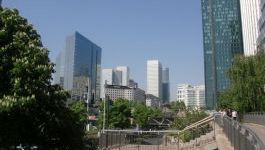 Eiffage: selected for a port project in Ghana.
(CercleFinance.com) - Eiffage has announced that it has been selected by Meridian Port Services, which includes Bolloré Transport & Logistics, APMT and Ghana Ports and Habour Authority, for the construction of a port platform in Tema, Ghana, for 104 million euros.


The construction group four months of study and 26 months of construction work will be required to complete the 97.6-hectare project, which also includes a conditional phase for the completion of a 29.4-hectare extension.

Eiffage has added that this is Bolloré's third project conducted in Africa, after that of the port of Lomé in Togo, which was delivered in 2016, and that of the port of Freetown, in Sierra Leone, which will be completed in mid-2018.


Copyright (c) 2017 CercleFinance.com. All rights reserved.