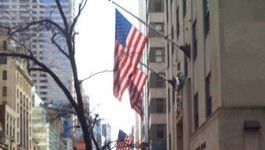 Vivendi: Bolloré exercises purchase options
(CercleFinance.com) - Bolloré Group, which held 34.
7 million Vivendi stock options (purchase), announced on Friday evening, the exercise of 21.4 million of these options, representing 1.7% of Vivendi's capital, at the average exercise price of 16.57 euros, meaning a total of 354 million euros.

At the end of this fiscal year, it holds 13.3 million options, entitling it to the same number of Vivendi shares, which may be exercised at an average price of 21.10 euros until 25 June 2019. Its stake in Vivendi, which represents 20.5% of the group's capital and 29.5% of its votes, has not been modified.


Copyright (c) 2018 CercleFinance.com. All rights reserved.