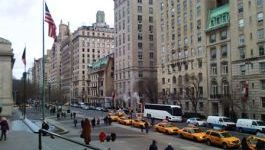 Casino: share up; potentiel divestment of Leader Price
(CercleFinance.com) - The Casino share is up about 3.
5% on Thursday afternoon.
The French retail group appears to be in exclusive talks for the divestment of its discount division, Leader Price, to the German group Aldi, according to Les Echos. A mandate has been given to BNP Paribas bank according to the paper.

According to Les Echos, the amount of the sale would be significantly above 400 million euros. The transaction could be completed within the next four or five weeks.

Les Echos says that Leclerc and Intermarché, two other major retailers, have also examined this acquisition.

To preparare for its 2022 strategic plan, casino's Board of Directors confirmed in August that it wants to step up the Group's unique positioning in e-commerce, premium and proximity formats.



Copyright (c) 2019 CercleFinance.com. All rights reserved.