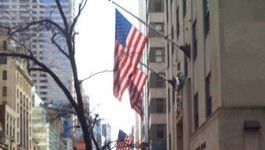 Vinci: agreement on working conditions in Qatar.
(CercleFinance.com) - Vinci has announced the signature of an agreement with the International Federation of Building and Woodworkers on human rights in the workplace, accommodation, the fairness of recruitment conditions and workers' rights.


The construction and civil engineering group specifies that this applies to all of QDVC's workers - Vinci's joint venture with the Qatari Diar Real Estate Investments Company - in Qatar and includes a due diligence procedure for subcontractors.

This agreement provides for an extensive system of monitoring, reporting, control, inspection and audit under the authority of a reference group comprised of representatives of the three parties involved. The latter will review all aspects of the agreement's implementation.


Copyright (c) 2017 CercleFinance.com. All rights reserved.