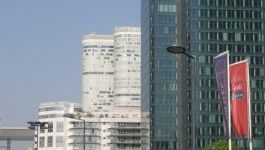 Capgemini: files friendly bid for Altran Technologies
(CercleFinance.com) - Capgemini today announces that it has filed with the Autorité des marchés financiers (AMF) a draft information note relating to its friendly takeover bid for all Altran Technologies' shares at a price of 14 euros per share.


The proposed merger, announced on 24 June 2019, will create a group that has revenues of 17 billion euros, with more than 265,000 employees.

The proposed price of 14 euros per share means a premium of 30% over the volume-weighted average price of Altran shares over the month prior to the announcement and a 33% premium over the 3-month average.

The independent expert appointed by Altran has concluded that the price of 14 euros per share proposed in the tender is fair. Altran's Board of Directors has delivered a reasoned opinion in favour of the offer.


Copyright (c) 2019 CercleFinance.com. All rights reserved.