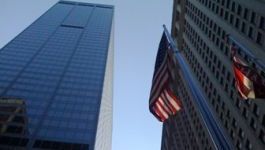 Saint-Gobain: new credit facility of 1.5 billion euros
(CercleFinance.com) - On Wednesday Saint-Gobain announced signing, with a consortium of banks, an undrawn credit facility of 1.
5 billion euros which will expire in December 2022. It includes two options for extensions of one year each.

This credit facility replaces one of an equivalent amount with an initial expiry in December 2018. The operation was largely oversubscribed to, with bank commitments amounting to 2.5 billion euros.

At the same time, Saint-Gobain has obtained the agreement from the banks to extend from December 2020 to December 2022 - again with two options of an additional extension to maturity of one year each of another credit line of 2.5 billion euros, while aligning its cost on the new facility of 1.5 billion euros.


Copyright (c) 2017 CercleFinance.com. All rights reserved.