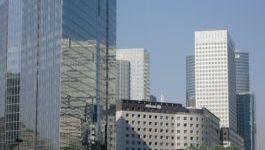 Gascogne: signs syndicated contract for 110 million euros
(CercleFinance.com) - Gascogne has announced the signing of a 110 million euro syndicated contract to refinance its existing debt and fund its industrial investment program over the years 2018-2020.


This operation will provide Gascogne with the means to continue its investment program in order to strengthen its industrial facilities: after an initial investment tranche of 100 million euros over the period 2014-2017, Gascogne will invest a further 100 million euros over the period 2018-2020 (half financed by the new investment loan and half-funded by by group companies), bringing total investment to 200 million euros over 7 years, the group said.

In addition, at its 2018 AGM the group will propose a capital increase of 10 million euros, supported by the shareholder Attis 2, to be completed before the end of 2018.


Copyright (c) 2017 CercleFinance.com. All rights reserved.