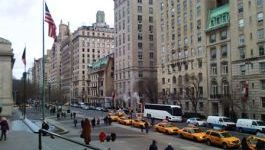 Veolia: successful convertible bond issue
(CercleFinance.com) - Veolia Environnement announces that it has successfully placed OCEANEs maturing on 1 January 2025 totalling approximately 700 million euros, through a placement with qualified investors alone, without DPS for shareholders.


The net proceeds from the issue will be used to refinance existing OCEANEs maturing on 15 March 2021, with the balance used to fund the Utilities Group's general needs.

The bonds will bear no interest and will be issued at an issue price of 103.25% of their par value, which corresponds to a yield to maturity of -0.60%. Their unit par value has been set at 30.41 euros.


Copyright (c) 2019 CercleFinance.com. All rights reserved.