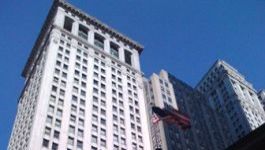 Colas: finalises acquisition of Miller McAsphalt Group
(CercleFinance.com) - In Toronto yesterday Colas Canada completed the closing of the acquisition of 100% of Miller McAsphalt Group's shares.

The purchase price of the securities paid on the closing amounts to 913 million Canadian dollars (c. 580 million euros). The acquisition is financed by debt and does not call into question the strength of Colas' balance sheet.

The Miller McAsphalt group is a major player in road construction and tar distribution in Canada, with a strong presence in Ontario. Its annual turnover reaches approximately 1.3 billion Canadian dollars on average, with an average operating margin of 7%, with the group having 3,300 employees.

This transaction is part of Colas' long-term strategy to continue its development in North America, a market that has strong growth prospects, given the significant needs in construction and maintenance of transport infrastructures, the group explained.


Copyright (c) 2018 CercleFinance.com. All rights reserved.