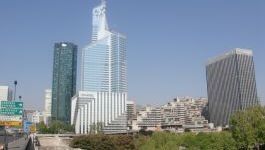 Citroën: launches 'inspired by you all' signature
(CercleFinance.com) - Citroën announces the launch of a new version of its Brand signature: Inspirëd By You All.
This signature is dedicated to films and advertisements of the brand's electrified models.

This new international signature is dedicated to the communication of the 6 electrified models from the Citroën range in 2020. This is already the case for the brand's latest addition, the New C5 Aircross Hybrid SUV, which has been available to order since November 2019.

"In 2020, to mark the launch of the Brand's electrified offensive, the appearance of a diaeresis on the 'e' in the signature is a dual nod: to the 'ë' of Citroën and to that used in the signature of the range's electric models: ëlectric," the group explained.

"The diaeresis also adorns Citroën's hybrid models, with the 'ḧybrid' logo affixed to the tailgate. Adding the word 'all' to INSPIRËD BY YOU ALL reinforces Citroën's desire to make electric more mainstream," management added.


Copyright (c) 2020 CercleFinance.com. All rights reserved.