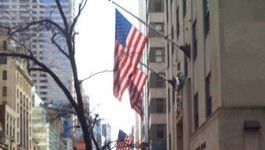 Peugeot: December sales up sharply
(CercleFinance.com) - The CCFA has reported having counted 193,375 new passenger car registrations last month in France, reflecting a decrease of 0.
5%.

The 2 major French car makers PSA and Renault experienced mixed fortunes in December, with respectively PSA reporting a 15.6% leap to 50,773 vehicles (26.6% market share) and Renault a decrease of 4% to 50,823 vehicles.

The Renault brand suffered a 7.7% decrease in sales, while Dacia saw its sales rise 12.2%.

On the stockmarket, at around 14:20 today, the Peugeot share was down 1.5%, while the Renault stock is down about 1.7%.

Copyright (c) 2018 CercleFinance.com. All rights reserved.