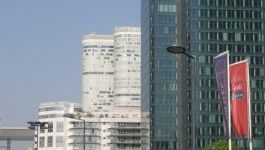 Kering: Puma shares to be distributed on 16 May
(CercleFinance.com) - Kering has announced that at its AGM of 26 April - in addition to the ordinary annual dividend - it will propose an exceptional distribution of one Puma share for 12 Kering shares held, which will be paid on 16 May.


This distribution in kind will benefit all Kering shareholders registered at close before the payment date, i.e. on 15 May.

Following this transaction, the French luxury group will hold 2,368,558 Puma shares, representing 15.70% of the share capital and 15.85% of the outstanding shares and voting rights of the German sports equipment maker.


Copyright (c) 2018 CercleFinance.com. All rights reserved.