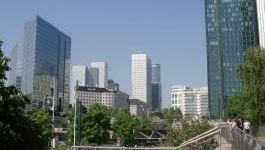 Thales: independence of first internal start-up
(CercleFinance.com) - Thales announces the independence of its first internal start-up, Heropolis, which has developed a secure application which will enable referenced persons (exposed persons or employees, tradesmen, committed citizens) to issue enriched geo-located alerts.


Spotted in 2015 during an internal competition, the project was selected to continue its journey as a start-up. In mid-2017, the Heropolis team joined the Digital Factory for an incubation period before becoming an independent company in the first half of 2018.

As a new lever for growth and innovation for companies, Thales is banking on intrapreneurship to encourage employees' creativity and offer them new and exciting experiences, the high-tech group said.


Copyright (c) 2018 CercleFinance.com. All rights reserved.