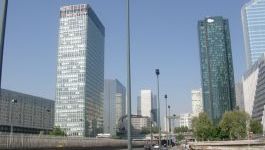 Thales: wins contract in Austria.
(CercleFinance.com) - Thales today announced the commercial launch of its next generation Doppler VHF Omnidirectional Radio ranging system - the DVOR 532.


The group also reported having signed a framework contract with Austro Control, the first company to acquire DVOR 532 for deployment in Austria. Under this contract, Austria will be endowed with the latest short- and medium-range air navigation technology designed to ensure safe and precise navigation in national airspace.

The new DVOR 532 system stands out from other products on the market thanks to a better navigation signal and reduced lifecycle costs for an easy maintenance solution.

Thales will be in charge of providing the training that is indispensable for the operation of up to eight new DVOR systems. Austro Control will begin to operate systems after flight checks, the first of which is scheduled before the end of 2017.


Copyright (c) 2017 CercleFinance.com. All rights reserved.