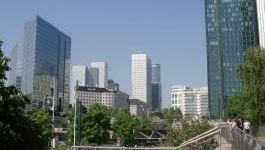 Michelin: leaves capital of Anhui Warrior Co.
(CercleFinance.com) - Michelin has announced that it has entered into a capital transfer agreement with Huayi Group, after which the French tyre manufacturer will sell 40% of the shares it holds in Anhui Warrior Co.


Huayi Group (Hong Kong) Co. Ltd. will acquire 30% of the equity that Compagnie Financière Michelin holds in Anhui Warrior Co, while Double Coin Tire Group Co will buy 10% of the equity held by Michelin (China) Investment Co in Anhui Warrior Co.

In order to better focus on their strengths and continue to strengthen their respective brands while developing their strategy, all parties have decided to proceed with this transfer of shares.


Copyright (c) 2017 CercleFinance.com. All rights reserved.