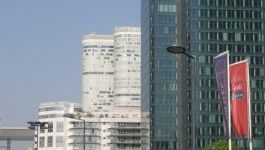 Natixis: signs agreement with Akuo Energy and the EIB
(CercleFinance.com) - Akuo Energy, the leading independent French producer of renewable energy, the European Investment Bank (EIB) and Natixis Energeco have announced signing an agreement.


This covers the deployment of a new program for a total investment of 330 million euros in renewable energy assets owned by Akuo Energy.

The program should therefore enable the funding in debt of around forty assets owned by Akuo Energy, that have been identified to date and which have total capacity of almost 400 MW.

Natixis Energeco has already announced its immediate support to structure investments. CIC has also confirmed its involvement in the operation. Both the French commercial banks had already participated in the roll-out of the first program granted by the EIB to Akuo Energy in November 2015.


Copyright (c) 2017 CercleFinance.com. All rights reserved.